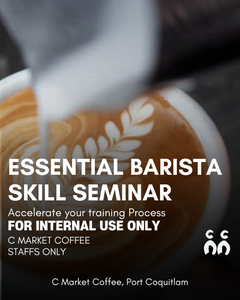 Essential Barista Skill Seminar
For Internal Purposes only (For C Market Coffee Staff and affiliates)
Monday, September 11th, 2023
6:00 PM to 8:00 PM
820 Village Dr⁠ #110 Port Coquitlam. 


Description:
Free Essential Barista Skill Seminar for C Market Coffee Employees. The purpose of this seminar is to help accelerate the training process of new employees and re-establish the C Market Coffee workflow for current employees.
This seminar is also a prerequisite to the Level 2 Barista Exam. This means that to be eligible for the higher-level employee exams, you must attend this seminar at least once.